Run With Your Heart, Not With Your Legs
WE ARE RECRUITING RUNNERS AND NON RUNNERS TO JOIN US TO HELP RAISE FUNDS FOR THE FIGHT AGAINST CANCER.
MARATHON DES ALPES-MARITIMES NICE-CANNES
Sunday 5th November 2023
For the fifth time, Mimosa is inviting you to join the Mimosa Runners team and take part in the Marathon des Alpes-Maritimes Nice-Cannes in this our 10th anniversary year.
Run with Mimosa not only to get fit and take care of your own health, but also to join a motivated, encouraging and friendly team and support a great local cause.
Mimosa will provide you with the training and inspiration needed as well as manage all the admin! AND we host arguably the best marathon after-party at Ma Nolan's in Cannes.
There are various options available: Full, Duo (2x 21km), 20km or Relay Team of 3-6 runners with distances to suit everyone from 3km > 10km*
Distances between relay points:
Nice > Saint-Laurent-du-Var : 8.7 km
Saint-Laurent-du-Var > Cagnes-sur-Mer : 3.0 km
Cagnes-sur-Mer > Villeneuve-Loubet : 6 km
Villeneuve-Loubet > Antibes Juan-les-Pins : 7.3 km
Antibes Juan-les-Pins > Vallauris Golfe-Juan: 10.8 km
Vallauris Golfe-Juan > Cannes : 6.4 km
*The "à la carte" marathon relay race comprises 5 relay change over points positioned along the marathon route.
We welcome and encourage people of all fitness levels to join us. Many of our previous runners had never run a day in their life until they joined Mimosa Runners. And all of them crossed the finish line with a smile on their face and a real sense of achievement.

But don't take our word for it, read some of our team testimonials: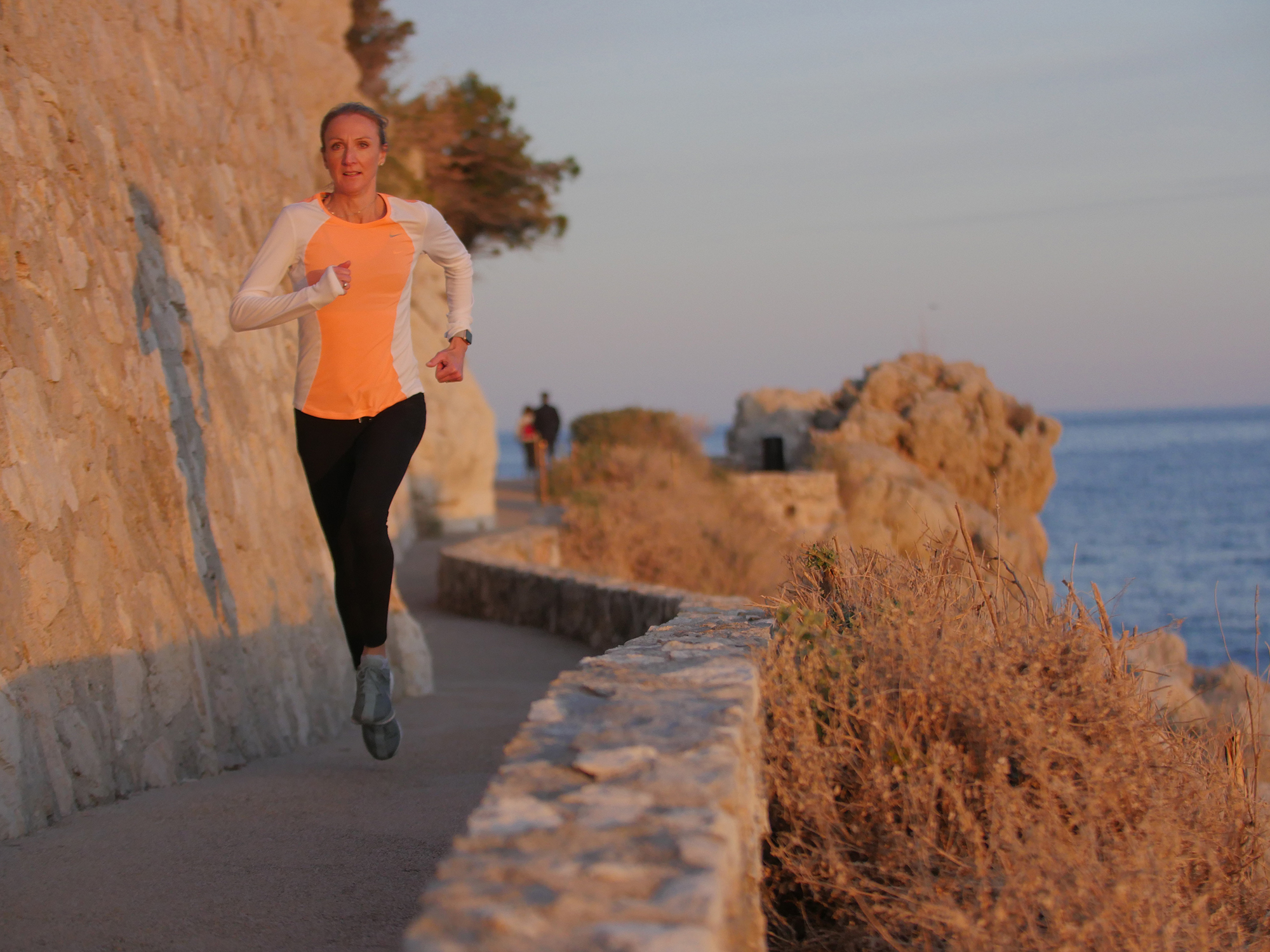 I am honoured to support Mimosa's work in any way that I can. Particularly through supporting their fundraising runners at Nice Cannes, the runners give so much of their time and energy to raising as much as possible and their efforts are hugely appreciated. Cancer touches so many of us in some way and the more we can do to support those affected and raise funds for treatments and research the better.
Paula Radcliffe. British long-distance runner & three-times winner of both the London and New York City marathons.
As a non runner I can genuinely say that participating in the marathon has been the most exhilarating, sense of great achievement experience ever. Even if running is not your forte you end up enjoying every second of it – the atmosphere is electric, the runners next to you simply carry you to your finish line. Will be doing it again next year!!! And next year!!! And raising money for the Mimosa charity gives me hope that if we pull together we can make a difference to the battle with cancer.
Agnieszka Hancock
I was so thrilled to participate in the relay race for the Mimosas charity in 2017 and what an experience ! An amazing team of people who encouraged us throughout the preparation for the race (even for beginners like me) with training each week, encouraging emails & organising of all the logistics. The day of the marathon was just fantastic as there was such a brilliant team spirit and we got to raise funds for a great charity. A win win for me, getting me on the road to fitness and raising money for charity, doesn't get any better really.
TRACY LEONETTI
I've been running with Mimosa for the last 3 years after someone close to me was fighting cancer. Before the first marathon, I couldn't run 1km without wanting to stop, so finishing the 6km section felt such a great achievement. By the 3rd marathon, I'd completed the half marathon and smiled the whole way round. You start running hoping to do some good for charity, but you end up doing something really good for yourself too. I now run a few times a week and find it gives me more energy, relaxes me and generally just puts me in a better mood. None of that would have been possible without Mimosa, you really do get the best out of yourself when you have a purpose and a team who support and encourage you. The initial motivation is to not let your team mates down, but after a few weeks you feel fitter, can run further and that gives you the drive to keep improving. It does also help that there's always a great Mimosa party in Cannes after the marathon to celebrate and find out just how much we raised for charity as a team!
RORY FORSTER
Not only is this an amazing cause, but I challenge anyone not to have their spirits lifted by the atmosphere created by the wonderful Mimosa organisers – you can not help but want to contribute to the cause. Personally, having been unwell in the lead up to the latest run, I was in no state to partake, but a combination of an amazing cause and a fellow leprechaun helped me over the finish line. Bring on the next one!'
Jez Moore
So what are you waiting for ?
By running with Mimosa you will be helping to raise funds for local Cancer charities in the Alpes-Maritimes area. This year, in an attempt to beat all previous fundraising totals, we have decided to ask that each runner commits to raising a minimum of 150e sponsorship money to take part in the race as a Mimosa Runner. All entry fee money is paid to the marathon organisers, so sponsorship is our only means of raising essential funds to help cancer sufferers and their families in the region.
The Relay Points:
Relay point 1 »
Saint-Laurent-du-Var > situé au km 8.7 sur le parcours
Relay point 2 » Cagnes-sur-Mer > situé au km 11.7 sur le parcours
Relay point 3 » Villeneuve-Loubet > situé au km 16.8 sur le parcours
Relay point 4 » Antibes Juan-les-Pins > situé au km 25.3 sur le parcours
Relay point 5 » Vallauris Golfe-Juan > situé au km 36.1 sur le parcours
The handover of the relay baton between two runners must take place at one of these relay points and not outside or the team will be disqualified. Teams of less than 6 runners can arrange their runners between these points as they wish.